Meeting & Conference Rooms
The Thayer Public Library has two small Conference Rooms and a larger Program Room (Logan Auditorium) available for public use.  A minimum of two people is needed to reserve the Conference Rooms, each of which seats up to six comfortably. The Program Room can accommodate 90 adults seated audience style. The Program Room's digital projection system and drop down screen may be used by arrangement.
To reserve Meeting Rooms please read the policies that govern the availability and use of the rooms, listed below.
Call the Children's Room at 781-848-0405 ext. 4425 to reserve one of the Conference Rooms.
Call the library at 781-848-0405 ext. 4417 to reserve the Program Room. (Check "Upcoming Events"  to see events that are already scheduled in the Program Room.)
One small Study Room on the Lower Level can be used on a first come first serve basis for up to three hours a day. It seats up to two people comfortably.  Please sign up at the Reference Desk.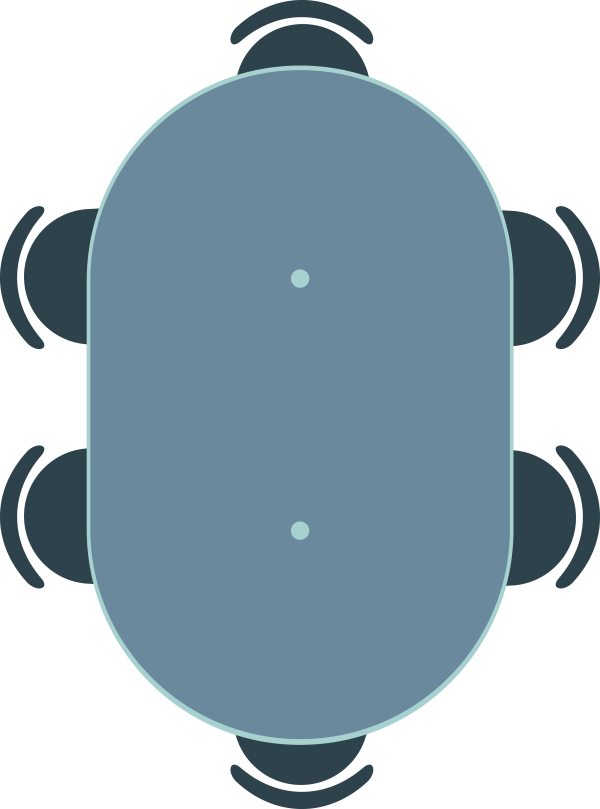 Policy for Use of Meeting Rooms
The use of Thayer Public Library Meeting Rooms is primarily for Library staff and Library sponsored programs that enrich and extend Library service to the community. Library-related and Braintree Town activities take precedence in scheduling and use of the Meeting Rooms.
Meeting Rooms may also be used without charge during regular library hours by non-profit community groups. Although usage is open to all such groups, preference is given to Braintree-based organizations.
Groups and businesses will be charged a fee to use the rooms for internal business meetings and/or training. Sales or the distribution of merchandise for sale will not be allowed except by library-affiliated groups. Fees for programs may not be charged.
The fact that a group is permitted to use the rooms does not in any way constitute an endorsement of the group's policies or beliefs by the Library or the Town.
The use of a Meeting Room may not interfere with the normal operation of the library and the Library reserves the right to review, accept or reject any or all applications for meeting room use.
1/9/06
Program Room Use
An application for use of the Main Library Program Room, seating capacity 90, must be filed at the main library, 798 Washington Street, at least 7 days in advance of the date of use. Special requests for before or after hours use should be made at least 2 weeks in advance.
Reservations are accepted under a first-come, first-served policy. Program Room reservations are made in person or by telephone in the Adult Reference Department. Each request is reviewed to determine meeting room availability, equipment needs and compliance with Library policy by the Library Director or his/her designee. In case of denial of use, appeal may be made to the Library Board.
People attending meetings held in the Library Meeting Rooms are asked to park on the street or in the Town Hall parking lot across Washington Street.
Meetings may not exceed three hours without specific approval.
Organizations, other than library related, may schedule up to four regular meetings during each calendar year.
All meetings must be open to the public. Private parties by invitation only are not permitted.
The Program Room is available for use on days when the library is open. Scheduling for days when the library is closed is at the discretion of the Library Trustees and Director. Fees commensurate with library staffing costs will be charged in these instances.

Standard usage fees may be charged as follows (Fees updated 7/01/08):

** Fee Waived ** for non-profit civic, cultural, educational and community groups during regular library hours.  Non-profit organizations are encouraged to make a donation of at least $10.00.
$50.00 flat fee for up to three hours of consecutive use; $20.00 for each additional hour.
A fee of $35.00 will be charged for any use of meeting rooms before or after regular library hours excepting use by library affiliated groups.
Checks accompanying the application should be made payable to Thayer Public Library.

The Library reserves the right to cancel any other previously scheduled use of the Program Room when necessary. Twenty-four hour notice of cancellation will be given by the Library whenever possible.
Storage of materials before or after the reserved time is prohibited. The Library assumes no responsibility for materials belonging to the organization / individual or liability for loss or damages. Personal insurance is suggested for valuable property brought into the Library.
The library will provide seating and tables, but Meeting Room set-up is the responsibility of the applicant. Items to be displayed can not be taped or tacked to the walls or moldings.
Organizations are responsible for bringing their own supplies and utensils if refreshments are served. Alcoholic beverages may not be served and smoking is prohibited.
Groups using the rooms are required to have adult supervision at all times.
All rooms used must be left in their original condition. A "maintenance" and or "cleanup fee" will be charged for damage to the room as a result of use as determined by the Library Director.
The Library Board and the Town of Braintree or their employees or agents are not liable for any claims rising out of the use of this facility.
Conference Room Use

The same regulations will apply to the Conference Rooms with the following exceptions:
Sign-up for upper level rooms will be done in the Children's Department. Rooms may be reserved for up to three hours. Sign-up may not be done more than one month in advance or exceed three three-hour blocks per week.
Conference Rooms are intended for group usage; however individuals may use the conference rooms on a first come first serve basis if the room is not reserved. Individual requests should be made in person in the Children's Department. Conference rooms are only to be used during regular library hours.
(Revised: May 19, 2015)
The Library Board reserves the right to modify the sections entitled "Program Room Use" and "Conference Room Use" at any time in response to changing conditions.