WHAT'S NEW
Braintree Reads 2019
Learning from one another, appreciating our differences, and treating our values, beliefs, and cultures with respect.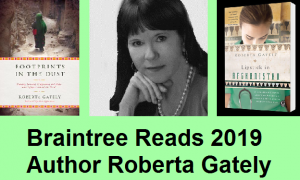 "Braintree Reads 2019" celebrates diversity with titles by Braintree author Roberta Gately, who has written three books — Footprints in the Dust, Lipstick in Afghanistan, and The Bracelet.
Join us on Saturday, March 23rd from 2:00 to 3:30 PM in Logan Auditorium to meet this year's Braintree Reads author. Roberta Gately is a humanitarian aid worker and a nurse, as well as a writer. She has served in war zones of third world countries across the globe and written on the topic of refugees for the Journal of Emergency Nursing and the BBC World News Online. She speaks regularly on the plight of the world's refugees and displaced.
Free tickets for her talk will be available at the library starting March 15th.

NEWS & EVENTS
Discover What's New! Subscribe To Our Monthly Newsletter.